- I V A N C H E R M A Y E F F -
"Design is desire towards human beings. To design is to solve human problems by identifying them and executing the best solution"
Ivan Chermayeff is known as an illustrator, prolific designer and artist Ivan, has created memorable and Iconic images for literally hundreds of clients. His work has been described as; profound, witty and captivating. The intellectual depth and sheer delight he demonstrates in his design process is a sheer force of his talent.
Chermayeff owns a firm with business partner Tom Geismar called Chermayeff & Geismar Inc, which is responsible for the well known Mobil logo to the much loved indentity design for Pan Am Airlines. Chermayeff & Geismar is a leading graphic design firm in the fields of corporate identity, brand development and logo design.
As Ivan Chermayeff has said, finding relationships is what graphic design is all about, just like poetry its about; analogy, simile, metaphor, meaning beyond meanings, images beyond images. In Chermayeff & Geismar Inc, images are words, have meanings, communicate. They all create visual images that are graphic poetry. - follow this link to see Ivan Chermayeff's Biography -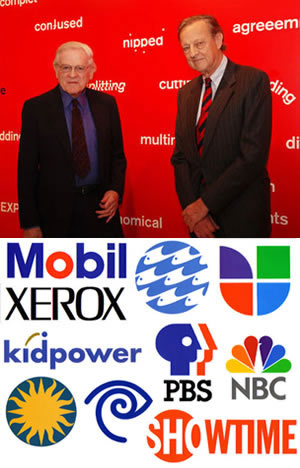 Chermayeff's trademarks, posters, publications and art installations for contempo
rary buildings are widely recognized and have received nearly every award bestowed by the profession, including gold medals from the American Institute of Graphic Arts and the Society of Illustrators. -follow this link to view some selected logos by Ivan Chermayeff -
"I need a lot of junk around me"
http://metroartwork.com/popup_all-artists_info.php?manufacturers_id=217
http://images.businessweek.com/ss/10/02/0201_worlds_most_influential_designers/7.htm
http://www.aiga.org/content.cfm/medalist-ivanchermayeffandtomgeismar
http://www.dandad.co.uk/buy/i/chermayeff.jpg